Microsoft SharePoint For Business
Transform The Way You Work With Seamless Collaboration
SharePoint provides you with a cost-effective, high-value solution that completely changes the way your organisation collaborates and communicates. SharePoint is not just a simple file-sharing tool, but a powerful platform that can streamline your business processes and boost productivity.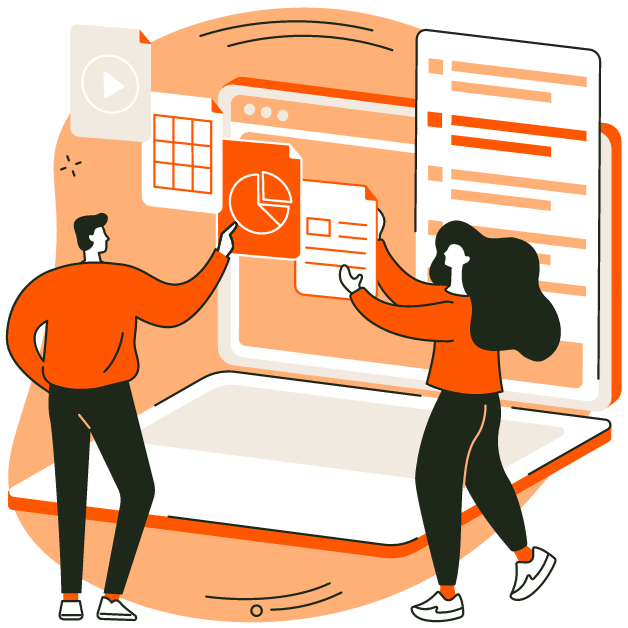 The Arbelos Advantage:

Your Trusted IT Support Partner
Arbelos has been the trusted Managed IT Services Provider for SMEs across Ireland since 2008.
We are a certified Microsoft Solutions Partner with decades of experience, enabling us to offer efficient and secure Microsoft migration and IT support.
Why Choose SharePoint?
SharePoint, a cornerstone of Microsoft's cloud services, offers various benefits:.

Simple Sharing & Seamless Collaboration:
Create dynamic and productive team sites for every team, department, and division in your company. Share files, data, news, and resources effortlessly and securely, across all devices.

Engage & Inform Your People:
Use SharePoint to build cohesion within your organisation. Share common resources and applications, and keep everyone in the loop with personalised, targeted news.

Harness Collective Knowledge:
Locate information, expertise and insights easily with SharePoint's advanced search features. It enables your organisation to maximise the velocity of knowledge.
Transform Business Processes:
Increase productivity by automating processes—from simple tasks like notifications and approvals to complex operational workflows.
Microsoft SharePoint plans
Choose the best fit for your business.
Everything offered in Business Basic, plus:
---
Get SharePoint features for small-to-mid-sized businesses
Share files securely and coauthor in real time inside or outside your organisation
Manage content in document libraries with versioning and access control
Search and discover relevant people and important content when you need it most
---
Apps and services included

SharePoint

OneDrive

Microsoft Lists
Microsoft 365 Business Standard
Everything in Plan 1, plus:
---
Desktop, web, and mobile versions of Word, Excel, PowerPoint, and Outlook
Chat, call, meet up to 300 attendees
Business-class email
Manage customer appointments
Easily host webinars
Attendee registration and reporting tools
Tools to create personalized documents and professional layouts
---
Microsoft 365 apps and services:

Word

Excel

Powerpoint

Outlook

Teams

OneDrive

SharePoint

Exchange

Publisher (PC Only)

Access (PC Only)

Microsoft Lists

 
How Arbelos Enhances Microsoft for Your Business:

At Arbelos, we are certified Microsoft Solutions Partners and our team have decades of experience supporting thousands of Irish workers to streamline their productivity using Microsoft products.
We understand that managing licenses and keeping up with Microsoft's ever-changing benefits isn't your priority – running your business is. That's where we step in.

Microsoft Certified Partners
Get real peace of mind that comes with knowing you're getting a truly optimal setup from an experienced Microsoft partner.

Compliance & Security
Ensuring compliance and maximum security to protect your sensitive information.

Get On With Running Your Business
We eliminate the hassle of dealing with licenses, setup, access and much more, so you can focus on what matters most – your business.

Comprehensive IT Support
We provide comprehensive IT support bundles that include your Microsoft license costs.
But Don't take our word for it!
– John Byrne,
CEO at Corlytics

"We have been using Arbelos as our IT partner since shortly after starting the Company. Today we are a global regtech provider running our applications on a SaaS basis. Arbelos supports our team globally, have a deep skill-set, are always immediately there for us and are a unique combination of competence, excellent service and offer a uniquely personal touch."
– Anne Dooley,
MD at Winthrop Engineering & Contracting

"Arbelos have been the IT provider for Winthrop for the last 10 years. They have successfully managed and grown the IT infrastructure and day to day IT operations, including many remote office locations across Europe. Arbelos successfully implemented a large user migration to user to Office365, with no downtime for our staff."
Book a consultation with an experienced engineer today.
Ready to Transform Your Business?
Start your Microsoft 365 journey with Arbelos. Contact us today to discuss how we can help your business grow.