INFRASTRUCTURE & NETWORKING Services
Empowering Irish Businesses with Robust IT Infrastructure & Networking Solutions
At Arbelos, we've been the backbone of businesses across Ireland since 2008, providing top-tier IT infrastructure and networking solutions tailored specifically for SMEs.
Your IT Infrastructure, Done For You!
Arbelos is your one-stop-shop for all IT infrastructure needs – from servers and backup devices, to racks and cables – fully supported by our experienced team.
Not sure where to start? Our professional team is here to design, supply and install business IT infrastructure for any scenario.
Equip your business with the best in networking.
At Arbelos, we can supply all of the equipment needed for running a secure, streamlined business network. From switches and firewalls, to wireless access points all stocked and ready for deployment, we've got you covered, whatever your business needs.
Select a time and date and book a consultation with a specialist today: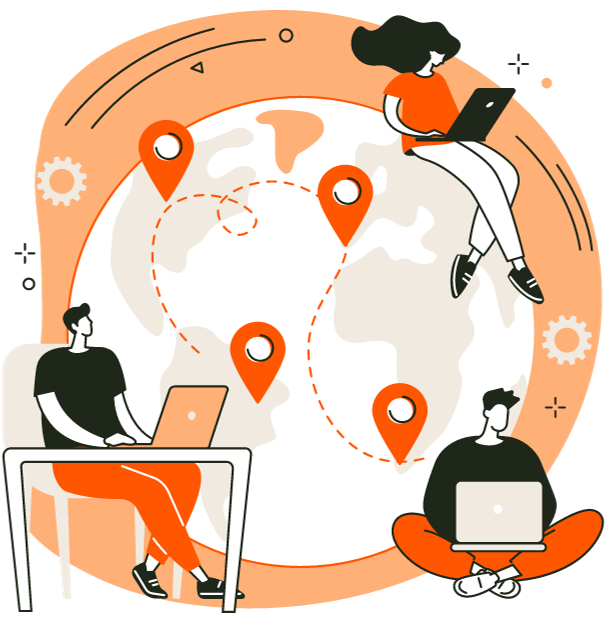 Our popular "Office in a Box" solution provides you with all the equipment needed to support a fully operational office in any location with internet access.
It comes with a firewall, switches and WAPs to enable remote locations and it comes preconfigured, so you only need to plug in a power cable and connect it to the internet.
We also support all of these devices through our ITIL support desk. 
Break Fix Support
Mon-Fri (Excluding Bank Holidays) 9.00-17.00
Remote & Onsite Support
We're there when you need us.

Monitoring
Security, Backups, and device functionality.
Onsite Resource
Acting as your in-house admin.

SLA Backed Response Times
Timely solutions guaranteed.
Regular Reporting
Incident and scheduled reports.
Network as a Service:
Seamless, Comprehensive, and Hassle-Free

Our Network as a Service offering is a ready-to-go solution, providing all of the hardware necessary to provide a complete networking solution, for a fixed monthly fee. So, for a predictable monthly fee, we can ensure your network is not only set up but also optimised for your unique business needs.

Business Hour or 24/7 Support


Wireless & Cabled Networks


Firmware Patches & Security Updates

Replacement EOL Equipment

Proven Track Record
Trusted by numerous businesses across Ireland.

Customer-Centric
We prioritize your needs.

Bespoke Solutions
Tailored IT solutions for every challenge.

Quick & Efficient
95% of fixes applied before the deadline.

Irish Owned
Proudly serving our local businesses.

Highly Trained Team
Constant focus on employee training and development.
– John Byrne,
CEO at Corlytics

"We have been using Arbelos as our IT partner since shortly after starting the Company. Today we are a global regtech provider running our applications on a SaaS basis. Arbelos supports our team globally, have a deep skill-set, are always immediately there for us and are a unique combination of competence, excellent service and offer a uniquely personal touch."
– Anne Dooley,
MD at Winthrop Engineering & Contracting

"Arbelos have been the IT provider for Winthrop for the last 10 years. They have successfully managed and grown the IT infrastructure and day to day IT operations, including many remote office locations across Europe. Arbelos successfully implemented a large user migration to user to Office365, with no downtime for our staff."
Our Process:

A Partnership From Day One
1
Scope Creation
Clearly defining your needs.
2
Quotation
Transparent pricing.
3
Supply & Install
Providing the optimal setup.
4
Maintenance
Ensuring smooth operations.
Or, we can simply skip straight to optimising and maintaining your existing infrastructure!
Starting Fresh or Upgrading Your IT?
Need Reliable Support?
Our professional deployment team ensures optimal operation for new or existing IT infrastructures and our support team is here to maintain, troubleshoot, and support all your IT infrastructure and networking.
Enquire now and find out how we can help your business.